The future with FPS machine tools

Robust precision for modern manufacturing
Universal milling machines and drills for industry, trade, universities and training.
FPS Werkzeugmaschinen GmbH is a machine manufacturer that specialises in the complete overhaul, servicing and maintenance of DECKEL and DMG machines.
Benninghoven trainees learn with FPS 620M-NC
The manufacturer of asphalt plants Benninghoven GmbH & Co. KG, part of the Wirtgen Group, equips its training workshops with FPS universal milling and drilling machines. Bennighoven was convinced by the machines' easy operation, good quality and flexible use. The trainees learn both manual operation with the handwheel and programming with the TNC 620 FS from HEIDENHAIN.
Training at FPS
At FPS we are passionate about education. Our long-term, highly qualified employees are our guarantee for ensuring the best quality in production and servicing.
Are you interested in training as a machinist or industrial mechanic? Then discover our training offers now.
Learn more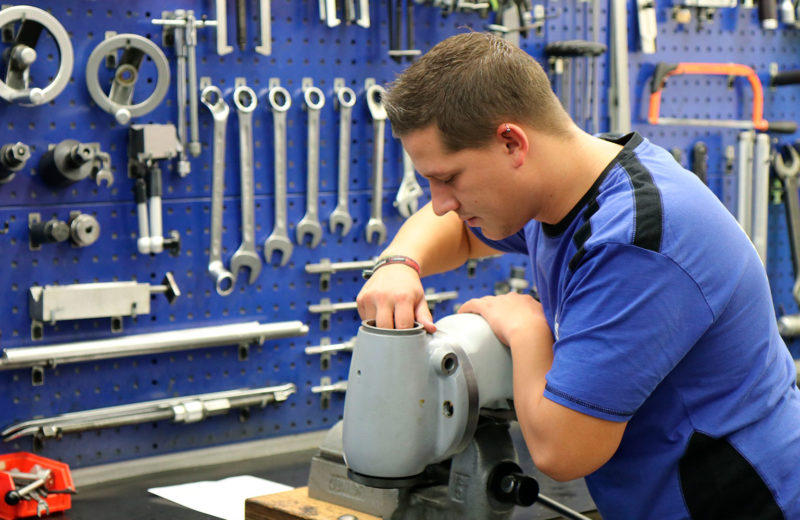 Working at FPS
We are a team of motivated trainees, both young and experienced skilled workers and expert managers. There are no boundaries between departments or hierarchical levels at our company. Everyone here talks to each other as equals 
–
 that's what makes our working environment so special!
Learn more
Aktuelle Jobs
Wir suchen stets motivierte Mitarbeiter in vielen unterschiedlichen Bereichen. Entdecken Sie hier unsere Stellenangebote für unsere Werke in Warngau, Holzmaden und Holzkirchen.
Mehr erfahren
Qualität made in Germany
We make no compromises in the manufacture of your machine tool: We ensure the high quality of our machines through a high level of vertical integration and regional suppliers. Our robust and durable machine tools would simply not be possible without our dedicated and highly qualified manufacturing team. At FPS, we rely on the very latest manufacturing technologies as well as manual operations, such as scraping in counter guides by hand.
Our service team has outstanding experience in maintaining and overhauling DECKEL and DMG machines. So you can rely on us to restore or even exceed the original performance of your machine tools.