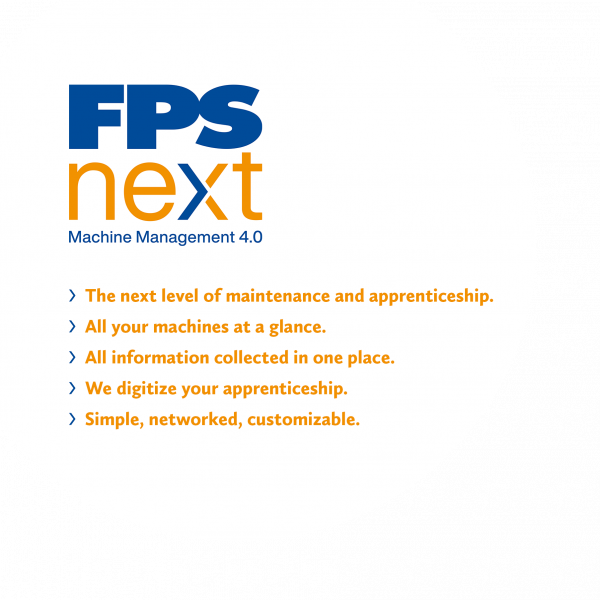 The next level of maintenance and apprenticeship.
FPSnext is the next step towards a digital and fully networked working world. It is the consistent implementation of our philosophy. Worker and machine as one unit. During development, it was important to us to provide our customers and partners with holistic support in the complex management of their machinery. This is why the integration and management of a wide variety of machine types is possible at any time.
Networking with the Industry 4.0 portal – FPSnext and the integrated spare parts store makes the digital management of consumables, spare and wear parts child's play. The organization and documentation of maintenance and electrical circuit diagrams can also be integrated into any work process thanks to intuitive user guidance. With FPSnext, we are taking innovative approaches to maintenance and servicing. Optimizing maintenance intervals and predictive mainenance, for example, is a decisive step towards longevity and cost efficiency. FPSnext also actively supports you in the introduction of digital training. The creation of exercises, curricula is possible in a playful way. The integration of video tutorials, as well as the management of control manuals and operating manuals is easy and flexible thanks to the clear design and modern usability. This is how the next step into digitalization and the work of the future succeed.