Refurbishing DECKEL & DMG
Refurbishing DECKEL & DMG

DECKEL universal milling and drilling machines - as new
DECKEL and DMG machines have a very high quality that often lasts for decades. However, if at some point their performance or precision no longer meet your needs, you need not necessarily go through the hassle and expense of investing in a new machine. Depending on your requirements, FPS can replace individual components or carry out a complete mechanical and control retrofit. Tailored to your needs and always value for money.
We are happy to advise you
Our staff will work with you to find the most efficient way to bring new momentum to your production.

Your contact
Armin Szeike
+49 (0) 8024 / 99 05-27
If old DECKEL or DMG machines no longer provide the necessary performance and/or precision, a retrofit is often significantly less expensive than a new machine, with almost the same results, the key reason being that the high-quality base machine still remains. Only wearing parts are reconditioned or replaced and, if necessary, the control is upgraded to the latest state-of-the-art system. The result is a virtually new, highly productive machine with warranty and detailed documentation. This is ensured by highly qualified FPS technicians in the Warngau and Holzmaden plants, who use only original parts or manufacture top-quality spare parts themselves.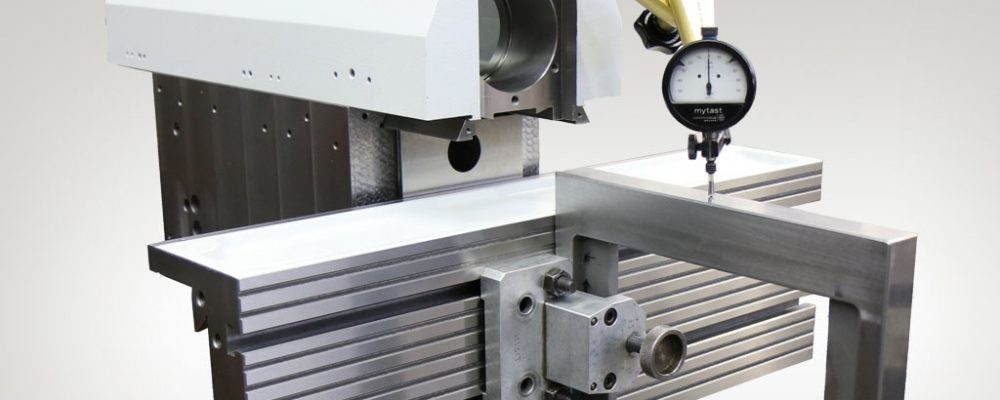 Depending on the condition of the machines and the customer's requirements and budget, FPS offers the following main retrofitting categories (and everything in between):
If milling or drilling machines show general signs of fatigue, indicated by significant losses in performance and precision, a complete overhaul is often recommended. In this case the machine is completely disassembled, analysed and reassembled, resulting in a machine that is good as new.
The work protocol of the complete overhaul of a DECKEL FP1/FP2/FP3/FP4 outlines how the scope of such a retrofit might look:
Scope of overhaul – complete overhaul of a DECKEL FP1/FP2/FP3/FP4
Assemblies:
Vertical cutting head – spindle block (horizontal carriage)
Machine base – support – X-axis operating carriage
Main stand:
Grind or scrape and pattern stand guides for support including fixed side and free surfaces true to size.
Grind or scrape horizontal guide for spindle block (Y-axis).
Support (vertical carriage):
Scrape support on stand to correct dimensions. Replace the wedge bar.
Scrape in the guide for the X-carriage to correct dimensions.
Replace Z-axes support cover strips with coated ones. Grind and adjust.
Table carriage (vertical clamping table):
Adjust X-carriage on support.
Replace X cover strips with coated ones. Grind and adjust.
Replace the X wedge bar.
Install X-carriage completely with new X-spindle and bearing shields.
Completely replace X-bearing.
Spindle block (Y-axis):
Scrape spindle block on main stand to correct dimensions.
Replace Y wedge bar. Scrape flat guide for cutting head arm holder to correct dimensions.
Transport spindles
Replace all transport spindles (X-Y-Z axis).
Horizontal milling spindle:
Replace spindle and spindle sleeve and grind in accurately. Replace spindle bearing. Replace extension drive or mechanism including bearings.
Vertical cutting head arm:
Grind cutting head arm or scrape in to correct dimensions for spindle block.
Completely replace the roller wheel including the counter drive wheels.
Vertical cutting head and vertical cutting spindle:
Replace bevel gear drive together with spur gear.
Replace spindle and spindle sleeve and grind in accurately. Replace spindle bearing.
 Replace extension drive or mechanism including bearings.
Angle table:
Restore the visible surface to its original condition by planing or grinding.
Scrape the support surface to the machine geometry.
Lubrication:
Check lubrication system is functional and replace operational parts with latest versions.
Paint:
Disassemble and clean the machine completely.
Painted in RAL 6011 green, or by special request for an extra charge.
Main gearbox / speed gearbox / feed gearbox:
Completely dismantle and replace all gear shafts and gear wheel bearings with new parts.
Electrical system:
Check that the entire electrical system is functioning.
Rewind and store drive motor armature or replace with new motor if necessary.
Check the complete electrical system and replace wearing parts (cables, cable trailing, protective hoses, etc.).
Accessories:
Offered separately by request.
Digital display:
Installation of a completely overhauled Heidenhain digital display including an active TNC-111 or 113 type Heidenhain counter or an identical, completely brand-new FPS active counter.
Existing scales are replaced by completely overhauled or new scales.
SPECIAL:
Only original cover attachments (counter arm, brackets, etc.) are used for mounting the digital display. (No self construction kit.)
General:
Replacement of all guideway wipers, bellows, drive belts, water pumps, chains, and small parts such as pointers, clamping levers, screws, detailed parts, etc., as well as various wearing parts, are part of our overhaul standard and are therefore not highlighted separately.
Final acceptance:
The machine is appraised and accepted in line with the original acceptance protocol of the manufacturer. On request, the acceptance can be carried out by you at our premises. Only genuine spare parts are used.
If the wear of a machine is kept within narrow and above all clearly definable limits, a partial overhaul is recommended. As with the complete overhaul, FPS technicians inspect all parts. However, only the relevant ones are replaced.
In this simplest retrofit category, FPS engineers replace all defective parts and inspect the machine at the end to FPS standards. This means that the machine is functioning again with absolute reliability. For reasons of cost, however, no optical corrections are made, which means that the final state ultimately depends heavily on the initial state.
Further overhaul services